If the great cities of Europe competed for the title of 'Most Beautiful', St Petersburg would be right up there. Yet it's not just the majestic historical buildings or classical artistic traditions that make  St Petersburg so compelling, it's a diverse, exciting and prosperous city of 5 million people, in the midst of a new era of cultural expression. The very best St Petersburg tours will tap you right into the heart of the city's vibrant energy.
The city of Peter the Great is an all-night town. The streets are packed with people, both locals and tourists, right through till morning. Here are some top picks for you in St. Petersburg!
1. Walk thourgh the Tsarist Palaces and Parks
St Petersburg is home to Russia's best preserved and most elaborate constructions from the extravagant Tsarist era. Brimming with baroque palaces, classical sculptures, royal gardens and grandiose cathedrals, walking around St Petersburg is like wandering through a living museum. See the famous fountains at Petergoff – they are officially turned on at the beginning of June, with accompanying festivities – and admire the glorious parks in Pushkin and Pavlovsk.
2. Take a canal boat tour or a river Cruise
Did you know the city of St Petersburg is crisscrossed with canals that have given it the nickname the 'Venice of the North'? If you're enjoying St Petersburg in summer, taking some time out for a leisurely canal cruise through the heart of the city is a must, sailing under photogenic bridges and taking in many of the city's famous landmarks along the way.
This is also the perfect time to take a Russian river cruise, on which you'll take in the sights, sounds and history of Russia's heartland from the comfort of a modern cruise vessel.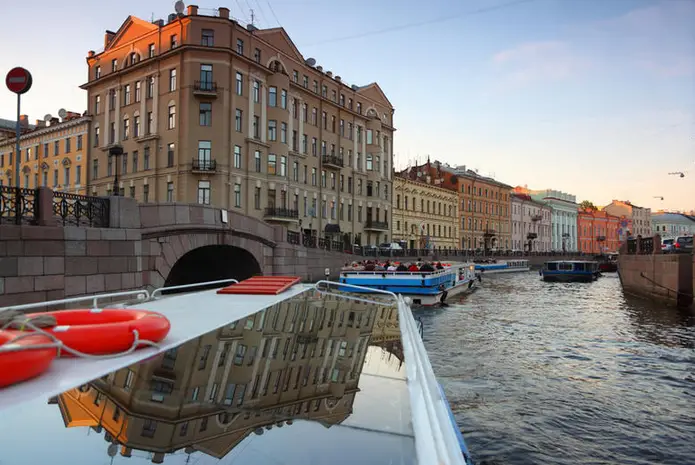 3. Watch the Neva bridges open
Navigation season in Saint Petersburg starts in April and ends in November. During this period drawbridges (moveable bridges that let ships pass through) of St. Petersburg are opened for a few hours during the night. A walk along the embankments at this time or a ride on a cruise boat in the Neva river will leave an unforgettable impression about St. Petersburg at night.
4. Enjoy a contemporary art scene fuelled by a hip, youthful vibe
St Petersburg isn't all about the old masters. The city's reputation as a hub for art and culture has carried on into the modern era, and young artists, writers, musicians and designers continue to flock to the city. While in St Petersburg, visit the Loft Project ETAGI (a huge multifunctional creative space complete with galleries, bookstores and hip cafes) or New Holland Island, a former industrial area now being turned into an uber-cool visual and performing arts space.